Amuch loved dish from Tamilnadu, a staple for summer lunches, served with any vegetable Raita!
Ingredients:
Raw mangos: 2 large
Basmati rice: ½ cup
Turmeric: ¼ tsp
Salt to taste
Masala Powder:
1tbspchana dal ( yellow split peas)
1tbsp white urad dal (dehusked and split black gram)
1 tbsp white til ( sesame seeds)
1 tsp coriander seeds
½ tsp fenugreek seeds
½ tsp asafoetida powder
1 dried red chilli
1 tbsp oil

For Tempering:
¼ tsp black mustard seeds
¼ tsp chana dal
¼ tsp white urad dal
¼ tsp asafoetida powder
2 tbsp cashewnuts chopped fine
2 tbsp peanuts roasted
fresh curry leaves 2-3 stalks
1tbsp sesame oil

Method:
To Make The Masala Powder:
Heat the oil in a wok and first add the asafoetida powder
When it starts sizzling, add the chana dal, stir for a few seconds, then add the rest of the ingredients. Keep stirring on a gentle flame to prevent burning.
Transfer to a plate, let it cool.
Grind into a coarse powder and keep aside.

To Make The Mango Rice:
Cook the rice with just enough water, into long grains. Do not overcook. Keep aside to cool.
Peel and grate the mangos. Keep aside.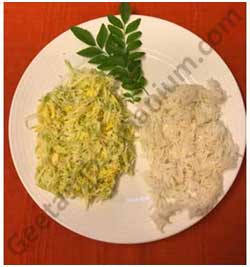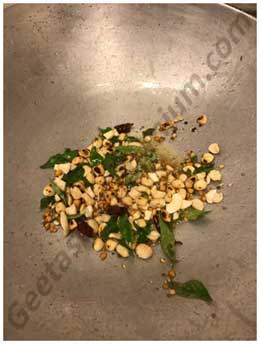 Heat the oil for tempering in a wok, add the asafoetida and when it sizzles, add the curry leaves followed by the rest of the ingredients. Keep the flame low.
Add the grated mangos, the salt and turmeric and stir well and let cook on a slow flame for about 5-7 minutes.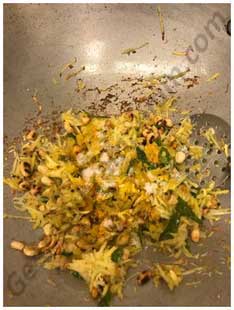 Add the rice and mix well.

Add the masala powder and mix.
Transfer into a plate.