MODAGAM
Ingredients:
Raw rice (basmati or parwal): 1 cup
Jaggery (powdered): I cup
Fresh Coconut (grated): I cup
Til oil: ½ cup
Banana leaves
For the filling called Purnam :
In a heavy pan add just enough water to soak the jaggery.
When it starts melting add the coconut slowly and keep stirring.
The flame should be very slow.
The mixture will start thickening and become tight.
Wet your hand and gently pat the mixture.
It should not stick to your hand.
Remove from fire and make small laddoos.
You can rub some til oil on your palms to make it easier. Keep aside.
For the outer covering:
Soak rice for 2 hours and grind to a smooth batter. You can use water freely, it should be a loose, buttery smooth batter.
In a heavy wok add 2 tbsp of oil and pour in the batter. Keep stirring on a low flame.
The batter will start tightening. You have to work the batter until it looses all moisture and you cannot stir any more.
Transfer on to a kneading plate. Let it cool and knead well adding more of the oil at intervals.
Knead it into a smooth dough. When the dough is well kneaded, the Modagams are softer.
Making the Modagams:
Take a lemon sized small ball of dough in your palm, flatten with your fingers, put in a ball of Purnam, and shape like a Modagam.
After all the Modagams are made, place them on a piece of banana leaf and steam for 10 minutes.
NOTE: The banana leaf is important because it prevents the Modagams from becoming soggy.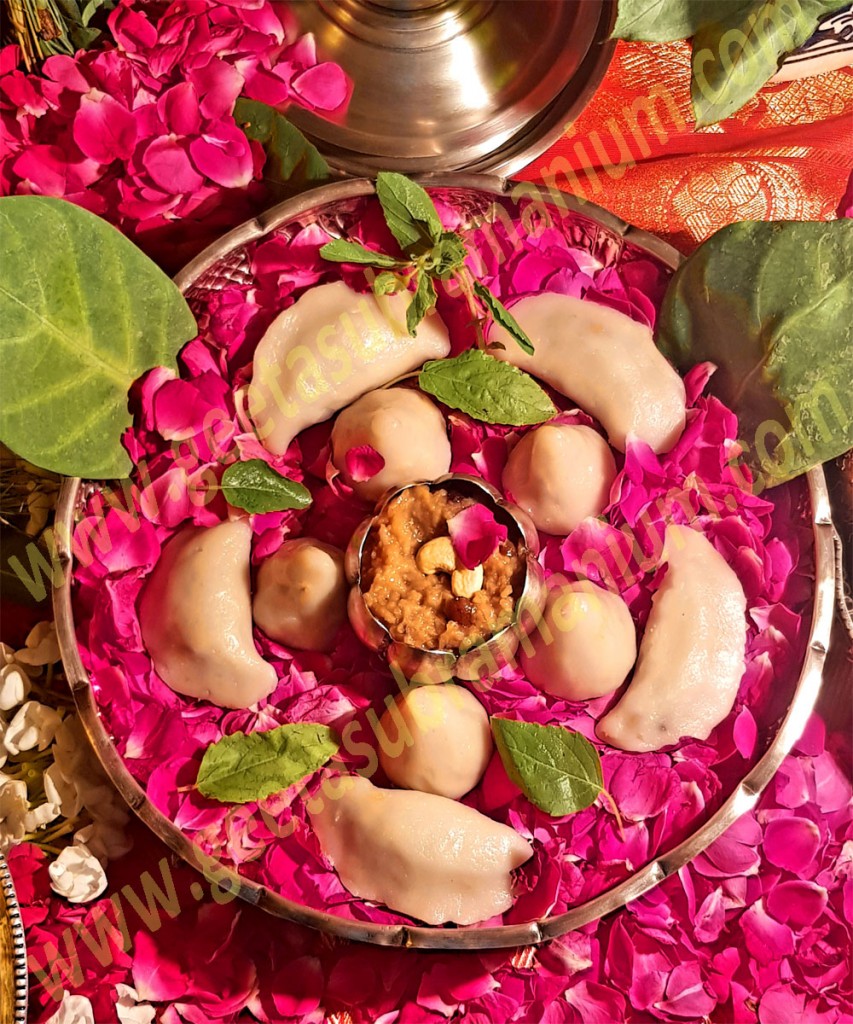 Savoury Koyakattais:
Ingredients for the filling:
Arhar dal: ½ cup
White uraddal : 1 cup
Dried red chillie: ½
Salt to taste
For Tempering:
Mustard seeds: ½ tsp
Dried red chillie: 1piece broken into 2
Curry leaves : leaves from 4-5 stalks
White uraddal : ½ tsp
Chana dal: ½ tsp
Hing:1/4 tsp
Tiloil : 1 tbsp
For Outer Covering:
Prepare dough same as for Modagam
Banana leaves
Method:
Soak the two dals in 2 cups of water for 2 hours.
Grind very coarsely along with the dry red chillie and salt.
Steam the coarse batter for 10 minutes.
In a heavy wok add the oil, let it heat and add the ingredients for tempering.
Stir well and let cool.
To make the Koyakattais:
Take a larger lemon sized ball of the dough. Spread it with your fingers.
Fill it with the savoury dal mixture and shape into a half moon.
When all the koyakattais are ready, steam on a banana leaf for 10 minutes.