ONAM- KERALA'S ANNUAL FESTIVAL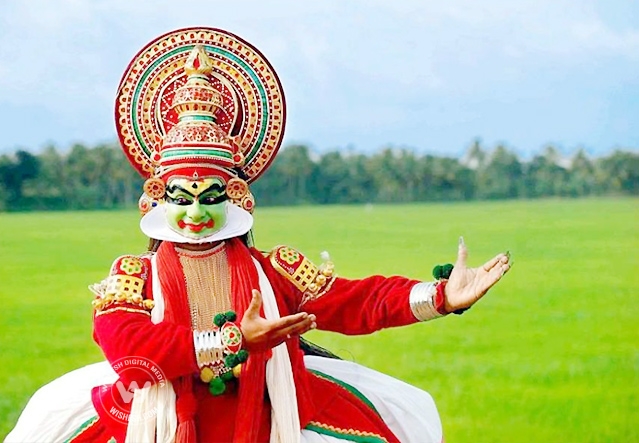 The festival of Onam  in Kerala , is the most popular of all festivals, bringing together all the people in the state ,irrespective  of class, caste and community .
It is celebrated in the month of  August-September known as Bhadrapad in Northern India and Chingam in Kerala.  Onam is a celebration of the harvest and also a Thanksgiving, celebrated over 10 days . The rich cultural heritage of Kerala is displayed in all it's grandeur,  withKeralites making preparations several weeks in advance.
The most spectacular celebrations take place in  Kochi, Trivandrum, Thrissur and Kottayam.
Like all other festivals, Onam also has a fascinating legend explaining its origins.
Mahabali was an Asura (demon) emperor who once ruled Kerala, and was loved and respected by his subjects. It is said that Kerala experienced a golden era under Mahabali and everyone was happy and contented. His bravery , strength of character and generosity  of spirit, , earned him the title of " MahabaliChakravarti" or " Mahabali" – King of Kings.
Mahabali was an ardent worshipper of Lord Vishnu
One day , to test him, Lord Vishnu disguised himself as a poor Brahmin dwarf called Vamana, and asked Mahabali for a piece of land. The generous emperor said he could have as much land as he wanted.
Vamana said he just wanted as much land as could be covered by his  three steps. Mahabali was surprised to hear this , but agreed.
Soon, Vamana began to expand to cosmogonal  size.
With his first step , he covered the whole earth, with his second step he covered the skies,  and then asked Mahabali where he should place his third step. Mahabali realized that this was no ordinary Brahmin, and offered his head for the third step. Vamana placed his head on Mahabali's head and pushed him down to the nether world. Lord Vishnu then revealed himself and was so pleased with Mahabali's sincerity that he offered  him a boon.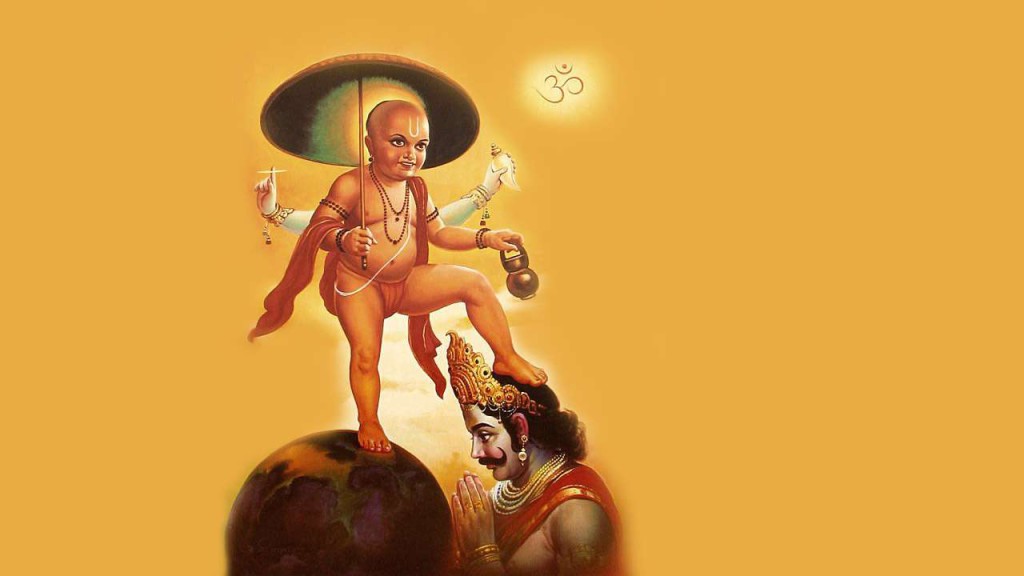 Mahabali requested permission to visit his beloved people once every year. The boon was granted and the day of the visit of Mahabali is celebrated as Onam every year. The second day ,Thiruvonam is the biggest and most important day because it is believed that Mahabali visits his people on this day.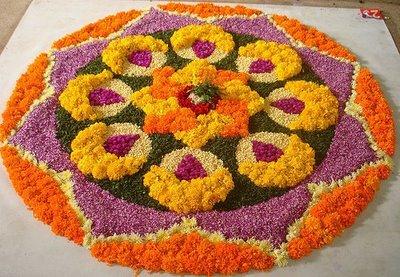 He is welcomed in every house  with Onapookolam a rangoli made exclusively of flowers
and Onasadhya– a grand traditional meal of anywhere between 24-64 dishes.  It is a symbol of the prosperity of the reign of Mahabali. Rich and poor, across all regions and religions of Kerala, cook elaborate Onasadhyas in their homes.
There is a lot of festivity and merriment all over the state, with spectacular parades of caparisoned elephants, fireworks, and several cultural activities like performance of Kathakali. Its also an occasion for several sporting events  like the Snake Boat Races,
which display breathtaking rhythmic rowing skills, and Pulikali– a colourful folk art in which men paint themselves as tigers and leopards and dance to the pulsing beat of drums, mimicking hunting moves.
There are also other rigorous sports like Talappanthukali- played with a ball, Ambeyyal– archery,  and other combative sports called Kayyankali and Attakalam.
 The government of Kerala recognized the felicity of the festival and celebrates ' Tourist Week ' during Onam celebrations.