RIPE MANGO KHEER WITH COCONUT MILK
This is a signature dessert from Kerala, also known as 'MambazaPradamun' It is a bit time consuming and laborious but totally worth the labour and worth the calories too!
Ingredients:
Ripe mangoes: 2 large
Jaggery: 2 cups powdered coarsely
Nuts (cashew and raisins): chopped fine ¼ cup
Pure ghee: 5 tbsp
Fresh coconut: 2 or 3, depending on the size.
Cardamom: 4-5. Powder fine
Note: You can use readymade coconut milk, but the freshly squeezed one always tastes better.
Method:
Break 2 coconuts and save ¼ of one coconut. Chop the ¼ coconut into very tiny pieces. Keep aside.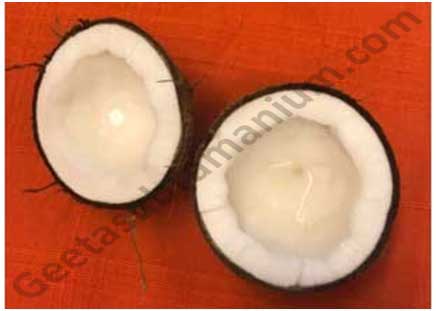 Grate the remaining coconut and strain through a sieve. This is the first milk. Press down to get as much as possible. Keep aside this first milk.
Add a little water to the strained coconut, mix well and again strain through a sieve, this is the second milk. Keep aside.
Note: You will get a small bowl of first milk and a larger bowl of second milk.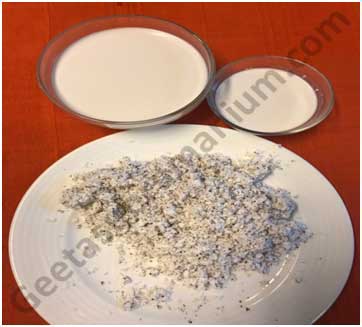 Peel and chop the mangoes into large pieces and make a puree. Keep aside.
Heat the jaggery in one cup of water till it is completely dissolved. Keep aside to cool.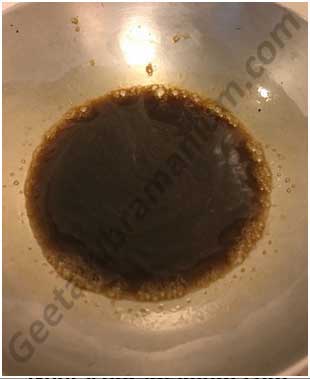 After it is cooled, strain the jaggery water to remove any dirt particles. Keep aside
In a wok, heat 2tbsp ghee and add the mango puree. Cook on a gentle flame stirring constantly till it starts thickening.
Add the jaggery water slowly and keep stirring on a gentle flame. When the mixture starts thickening add 2 more tbsp ghee and keep stirring till it   becomes jam- like in consistency.
Note: It takes a while to reach this stage so you have to be patient.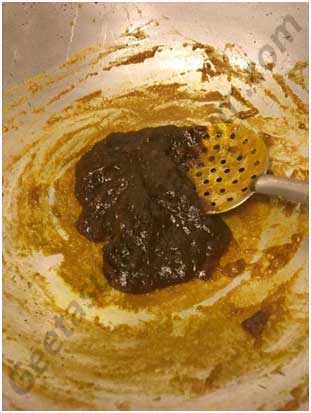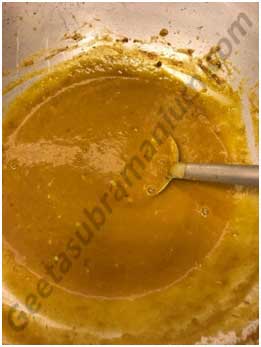 Add the second coconut milk and stir gently. Take care that the flame has to be very low.
Simmer for 2-3 minutes, take off the fire, and add the first coconut milk and the cardamom. Stir gently and keep aside to cool.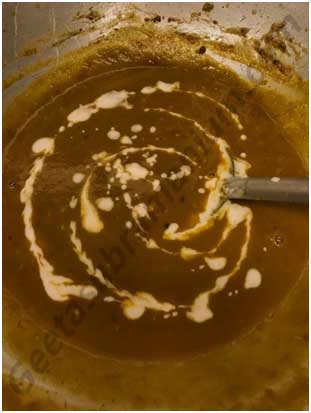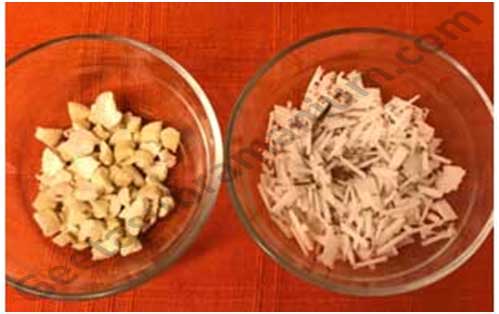 In a wok heat 1 tbsp ghee and fry the nuts and the finely chopped coconut and transfer into the kheer.

This kheer tastes delicious both hot and cold.