This is a signature dish from Tanjavur, Tamilnadu. A very pleasant change from all the regular varieties of Sambhar.
Ingredients:
Tamarind: a lemon sized ball
Tuvar dal (Split pigeon peas): ½ cup
Ripe mangoes of medium size: 3
Fresh curry leaves
Black mustard seeds: ¼ tsp
Turmeric powder: ¼ tsp
Salt to taste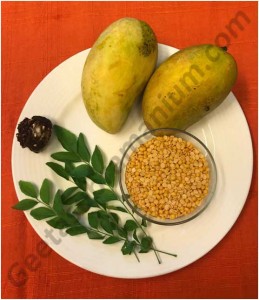 For Grinding:
Fresh grated coconut 2 tbsp
Coriander seeds: 1 level tsp
Fenugreek seeds: 7-8 seeds
Chana dal( yellow split peas): ¼ tsp
Hing powder( asafoetida): ¼ tsp
Whole dried red chillies: 4-5
Cooking oil: 1 ½ tbsp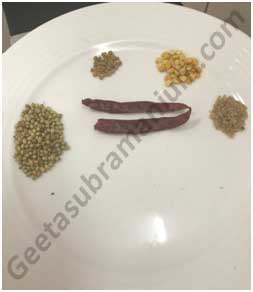 Method:
Soak the tamarind in 1 cup of water for 15 minutes and squeeze out the pulp. Keep aside.
Soak the dal for 15-20 minutes and cook with 2 cups of water and keep aside.
Peel 2 mangoes and cut into large pieces and make a puree. Keep aside. Peel the 3rd mango and chop into small pieces.   Keep aside.
In a wok heat 1 tbsp oil on a gentle flame. Add the ingredients for grinding except the coconut. Stir for a few seconds and transfer into grinding jar.

Grind to a smooth paste along with the coconut, using a little warm water. Keep aside.
Cook the tamarind pulp on a medium flame until it starts to thicken.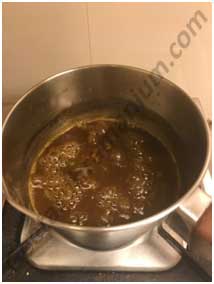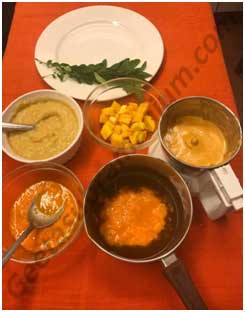 Transfer the pureed mangoes into the pan of tamarind, add the turmeric, the ground paste, and the cooked dal. Mix gently together. Add salt and a little water if it feels too thick.
Boil on a very slow flame for a couple of minutes only. Add the cut mangoes, stir and keep aside.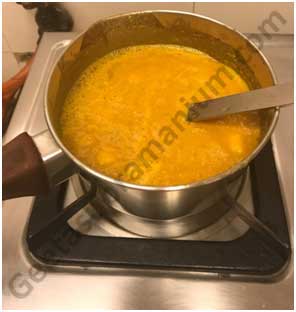 In a wok add ½tsp of oil, add the mustard seeds and when they start splitting, add the curry leaves stir, and pour into the Sambhar.