An Afternoon in Cavtat, Croatia
( pronounced Tsau-tat) is the Croatian name of a Roman settlement founded in 47 BC by Julius Caesar, in Croatia's Rat peninsula, called Epidaurum . Over time it grew , went through a painful history of earthquakes and conquests and today is is a charming and quaint seaside resort.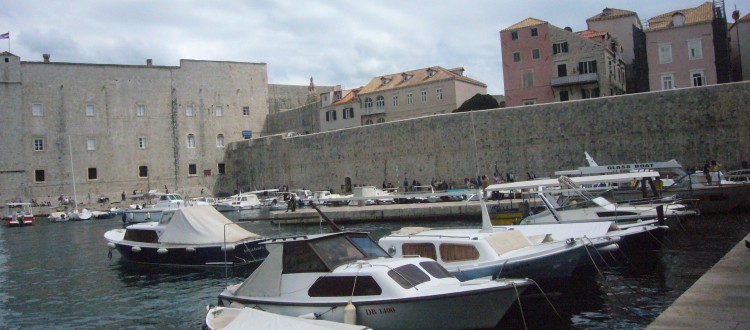 Beautifully located between magical Dubrovnik on one side, and charming Konavle on the other, Cavtat is  smaller than Dubrovnik, but ,is older, and was formed long before Dubrovnik was even dreamt of.
The locals claim that only 5000 people actually live here.
The town looks like a picture postcard, with luxuriant vegetation of palm and pine trees, cypresses and olive trees, the aquamarine and sapphire blue of the Adriatic Sea, the white stone promenade along the harbor,
all basking in the warmth of the Mediterranean sun. In the summer months, hordes of visitors drive in and spend the whole day in the promenade, either relaxing in one of the several pretty little coffee shops overlooking the sea,
or walk about the little town eating the awesome ice-cream that Cavtat is famous for, and exploring what the town has to offer.
There is a surprising amount of sights to see ;
Cavtat's most famous son ,the celebrated painter Vlaho Bukovac(1855-1922) is everywhere in Cavtat. His family home is behind a 15th century Franciscan monastery at the northern end of the promenade. The 15th century parish Church of St Nicholas has his paintings of the four evangelists over it's main altar, with more of his works on display in the art gallery next door. The church interior is Baroque and is filled with the work of several well known painters apart from Bukovac.
The 16th century Rector's Palace is testament to Cavtat's long and distinguished cultural history, housing an eclectic collection of paintings,sculptures , over 30,000 copies of valuable books , among them numerous incunabulas, and rare books, a collection of more than 1000 letters from prominent personalities, a collection of antique coins and old arms, an ethnographic collection etc.
A large part of the collection has been donated by Balthazar Bogosic , an eminent academician born in Cavtat. The palace is decorated with several masterpieces painted by Vlaho Bukovac and also has a Lapidiary with excavated objects and monuments from Cavtat's thousand year old history.
Uphill in the Cavtat cemetery is the imposing Mausoleum of the wealthy Račić family, an octagonal dome made from brilliant white stone from the island of Brač, by Croatian master sculptor Ivan Meštrović. The entire structure was built without any wood or any other material except bronze of which the door and the bell were made. It is quite an astonishing sight.
At the end of the marina, is the church of the celestial female protector of Cavtat , Our Lady of the Snow, commemorating a miraculous midsummer snowstorm in ancient Rome, believed to have been a sign sent by the Virgin Mary. This single nave church with simple wooden pews has a rich collection of early Renaissance paintings and also a 1909 Vlaho Bukovac painting of Mary and Baby Jesus watching over Cavtat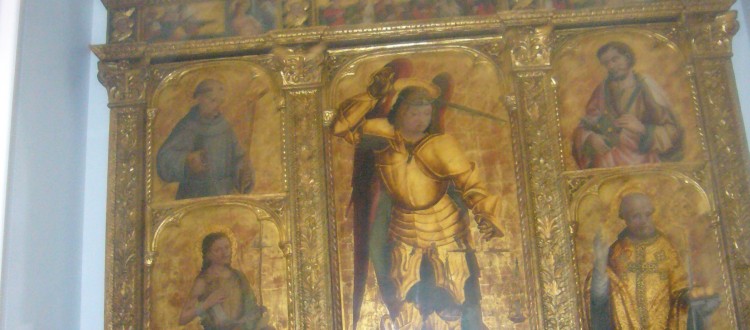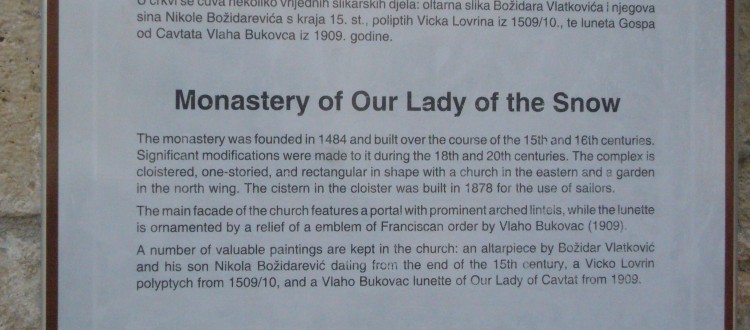 Throughout the last century Cavtat was an exclusive retreat for wealthy Croatians, many of whom built mansions there and also a thriving hub for artists. Even today fishing and tourist boats jostle for space with huge gleaming yatchs. Several European billionaires sail along the Adriatic and dock into Cavtat to relax for a couple of days. The town gives out a very relaxed and chilled vibe and is supremely tranquil.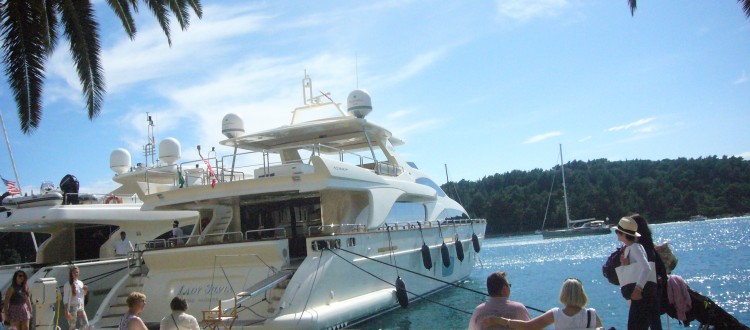 The Epidaurus Festival is an international music and art festival started in 2007 in Cavtat, which also includes drama, literature, poetry, folklore, educative programs about the area and it's beauty and tradition. Usually held in August-September,the festival comprises a number of events,from classical music and jazz concerts to courses for young artistes , exhibitions and lectures. In addition to performances by established local and international artistes, the festival pays special attention to young artistes , enabling them to stage independent performances.
In the last weekend of July is held the Cavtat Summer Carnival.Easy-going fun is the trait of this carnival with performances of bands, street entertainers, jugglers and actors turning the whole town into a giant stage with a bit of fun for everyone.